ISO 15189
ACCREDITED BY ENAC (1212/LE2336).

Scope
Fetal aneuploidy screening (chromosomes 13, 18, 21, X and Y) and maternal blood fetal sex determination through massive parallel sequencing (NGS).
Detection of genetic alterations due to DNA copy number variations (CNVs) linked to intellectual disability and multiple malformation syndromes, using Genomic Hybridisation compared to array CGH (postnatal, 60K).
Accreditation > Technical annex >
ISO 9001
ACCREDITED BY BUREAU VERITAS.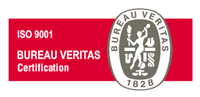 Scope
Providing diagnostic genetic testing services in pre-analytical, analytical and post-analytical stages for the specialities of genomics, non-invasive prenatal testing, molecular diagnostics and NGS sequencing.
Certificate >
GENQA
CERTIFIED BY THE CYTOGENOMIC EXTERNAL QUALITY ASSESSMENT SERVICE.
Scope
Non-invasive prenatal testing for common aneuploidies.
Postnatal constitutional CNV detection (array) (previously Constitutional microarray analysis - postnatal sample).
Prenatal constitutional CNV detection (previously Prenatal microarray).
EMQN
CERTIFIED BY THE EUROPEAN MOLECULAR GENETICS QUALITY NETWORK.
Scope
DNA SEQUENCING - NGS (v Germline)
DNA SEQUENCING – SANGER
HBOC (Panel Testing)